Today, former U.S. ambassador Joseph Wilson came to CMU to speak to this year's Leadership Safari, and I got to meet him.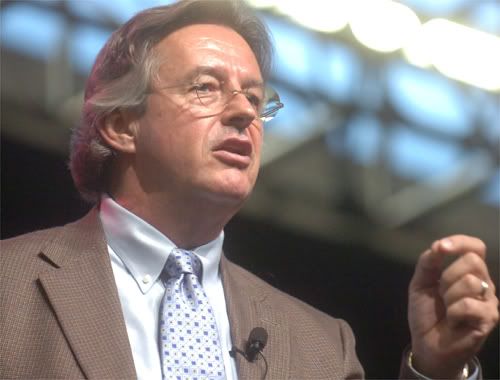 I shook his hand and introduced myself. I'm pretty sure the only coherent thing I said to him was "It's an honor to meet you," after that my voice kind of trailed off as it dawned on me just WHO exactly I was meeting.
I'm meeting a man who has shaken hands with Saddam Hussein. I'm meeting a man whose wife was a CIA operative. This is the real deal in international intrigue and government cover-up scandals, and here I am trying to... what, say something to impress him? To prove I've been reading the news?
So I couldn't manage to say much to him that was different than what probably 80% of everybody who has met him said, but that's OK. I wanted to buy a copy of his book, "The Politics of Truth," but I was two dollars short, so he gave me two dollars so I could buy a copy of his book and he even signed it for me.
It can be pretty cool, being a newspaper photographer.