Glad Grads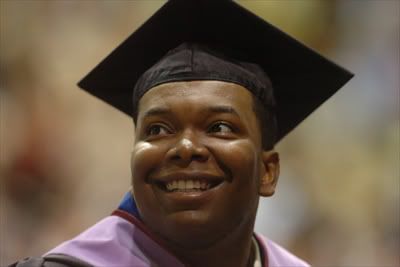 Two years ago today, I was in this man's shoes.
Two years of living in Mt. Pleasant post-CMU has taught me a lot, and as John Grogan, the keynote speaker at commencement who penned the best-selling "Marley and Me," said, we continue to learn after leaving the classrooms behind and entering the workforce. As he said, it is only the beginning of a lifetime of learning.
I have had to learn to say goodbye to close friends I made over my four years at CMU, which has probably been the hardest thing for me to do. As we spread out over the country after school to find work and a place to live, we sometimes lose track of the people who were in all our classes or who helped us through the hard times.
I have been thinking a lot today about my classmates in the photojournalism program at CMU, who I went to Louisville and Cleveland with for conferences; who worked with me at CM Life and who would wake me up when I would fall asleep during lecture; who gave me so much encouragement and inspired me to better myself. I miss them all. My dad once said there will be no stronger friendships than the ones I make in college and so far I am inclined to agree with him. From New York to California, they are striking off on their own and growing in ways I can only imagine.
Best of luck to today's graduates. May you never stop discovering the world around you.